'Bald' Dating Sites*
Along with Bald Passions (the site you are on now), the sites listed below all focus on connecting bald singles and those interested in bald singles. There are only a handful of dating sites for bald men and bald women and those attracted to them, so if that is the type of dating site you are looking for, then you are in the right place. Since Bald Passions is free, you can create a profile on here while exploring the 'paid membership' bald dating sites below.
AD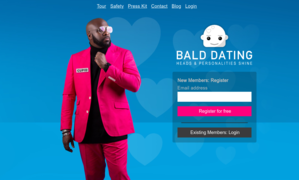 Bald.Dating
Fun Exciting Bald Dating App
If you are attracted to bald men or bald women, then Bald.Dating is a great place to meet like-minded singles. The design is crisp and easy on the eye, as well as intuitive. Join for free and see what you think of the features available within the site/App.

Single And Bald
Bald Love Online
Great site for singles interested in connecting with bald men or bald women. If you are bald or you 'have a thing' for bald headed singles, then Single and Bald would seem like the site for you. Join for free and explore the many bald heads within the site. Have fun!
AD
*Sites listed on this page are a combination of ads, affiliate related Sites and general non-partnership related sites that match the theme of Bald Passions.